'Fast and more' culture has been long dominating the world of personal essay, but luckily there are those pioneering social change, even as far as in UAE. Fashion blogger Shruti Jain of Style Destino advocates staying true to the harmony of style and ethics, rather than being a victim of mindless consumption habits. She also reiterates there's no need to change outfits only to boost your Instagram feed. Flaunting an outfit times ten is no ground for shame. These are rather wise words for a young Dubaite, dedicated to more mindful ways of blogging in today's superabundant influencer cult. She shares her ambition to bring Dubai on the map of ethical blogging world with us.
Interview by Hanna-Amanda Pant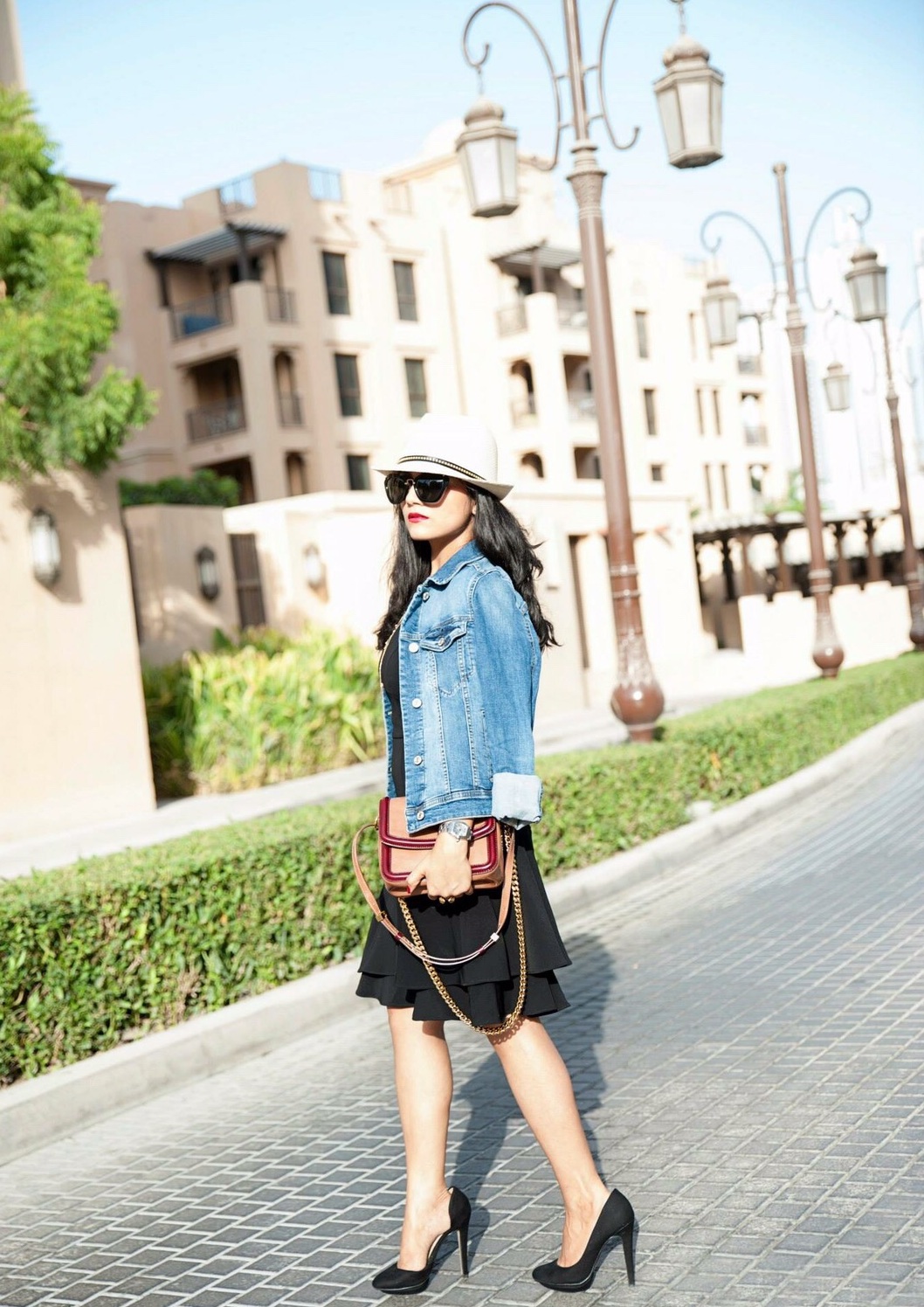 Ethical Blogger: Style Destino #Savant
What made you start your own blog, Style Destino, promoting ethical fashion?
I was part of the first wave, when blogging just started. At that time, very few people knew what a blog was and "vegan" fashion blogs were unheard of. I've been a vegetarian all my life. I never used leather or fur and was always conscious about my lifestyle choices, from clothing to beauty products. However, finding good quality vegan shoes, bags or make-up was a rather daunting task. Back then, there were fewer online stores and most brands didn't ship internationally. So, I had to always find someone from my family or friends, who were travelling to abroad, mostly US and UK, to get my stuff. Moreover, I didn't find any platforms that shared cruelty-free fashion and beauty. I decided to start my own blog to show people that one does not have to sacrifice style or ethics to look good or lead a glamorous lifestyle, hence Style Destino was born.
How has your platform evolved over time?
On the course of my vegan blogging journey, I've learned a lot about the dark side of the fashion industry – how the labour is exploited and planet is sacrificed for the fashion choices we make. That's why my blog has taken a direction from just being vegan to ethical. I am trying to switch to eco-friendly brands and inform people that fashion, style and ethics can co-exist, too. I also aim to showcase stylish ethical looks to ethical sustainable brands. Through Style Destino, people can get access to information about their fashion choices, so they can make more informed purchases.
What are your current summer favourites from ethical, cruelty-free pieces?
1. Vetta Off-Shoulder Dress
I love wardrobe pieces that are classic and offer versatility. You can wear it more, and you get more out of your buck without sacrificing your style. That's what the ethical brand Vetta Capsule is about. They created a capsule collection of 5 outfits that can create 30 days worth of outfits. Vetta's off-shoulder dress is on top of my summer favorites. You can wear the dress in 4 ways, as a dress or separates.
2. FAETH Ethical Fashion
I came across the new FAETH collection by Address Chic through their social media platform. I am completely smitten by their dresses – they're both feminine and stylish and made from organic cotton and soy fabric.
3. Vegan Love Apparel T-Shirt
T-shirts and denim shorts combo works for most summer jams, and a T-shirt with a cool quote makes the look even more interesting. I got my hands on the 'Avocado to my Toast' tank from vegan brand Vegan Love Apparel and have been practically living in it. It has a super soft breathable fabric (must for the scorching heat), while it also speaks my mind (I'm an avocado lover).
4. Votch Vegan Leather Watch
I love watches, and when I came across the vegan leather watches from British brand Votch, I completely fell in love with their minimal style. I have the pink and gold Votch, a perfect summer accessory. It's timeless, stylish and feminine. In addition, the powder pink adds a touch of elegance to this beautiful timepiece.
5. Nina Bernice Cork Crossbody
The Nina Bernice crossbody handbag made from cork is one of my recent additions to the wardrobe and it's an absolute piece of delight. Firstly, I love the fact that it's made from one of the most eco-friendly materials – cork. The bag has a natural cork texture with a nice metallic finish to it, which makes this little bag the perfect glam accessory for warm weather. This bag is stylish, functional and made out of a sustainable, cruelty-free material. What's not to love about it?
6. Da Quy Vegan Heels
Italians surely know their shoe game and the latest sustainable brand that's the hot topic in sustainable circles is Da Quy. Their line of vegan, eco-friendly shoes are stylish, smart and don't fail to make a statement. My favourites are their Corallo sandals in camel – they're elegant, yet smart, and will work with pretty much every outfit.
See more Style Destino ethical picks here.
What are the health benefits vegetarian eating has given you?
I've been a vegetarian all my life, and vegan for 3 years now. I have never encountered any serious health problems. I am a strong believer of eating light, and it helps me stay healthy and manage my weight. There are times when I am busy and constantly travelling because of work. Then I miss out on my workouts due to busy schedule. But since I eat right, it helps me stay in shape.
What's your favourite vegan recipe for summer?
I love smoothies and salads and summer has so many great fruits that makes whipping up delicious smoothie treats even more fun. Mango and Peach Smoothie and Kale and Pineapple smoothie are my absolute favourites. Not only are they super healthy, but heavenly delicious, too.
"I often wear the same shoes or pants for different looks, and proudly post them on my social media."
Have you got any tips for us: how to incorporate more conscious lifestyle principles into our everyday?
Fashion is the second most polluting industry in the world. The industry is also infamously known for labour exploitation, use of child labour, poor working conditions and sexual assaults taking place in factories and throughout the industry. By making wrong choices, we are directly contributing to these consequences. It doesn't take too much effort to make conscious choices, when it comes to your wardrobe. I've started my journey of ethical lifestyle and here are a few things I recommend:
1. Buy Less, Choose Well – you may have heard this quote, but it's time to implement it. Buy clothes that fit well and things that you need. Don't get lured by sales, discounts, the latest fashion finds, or other marketing tactics thrown on you by the brands. Invest in good quality pieces that last. Opt for ethical brands and options. There are so many amazing ethical fashion brands that offer stylish eco-friendly clothing and accessories.
2. Wear Your Clothes Smartly And Wear Them Often – there's nothing wrong with repeating your outfit. The celebrity and social media influence has subconsciously made us believe that repeating outfits is a faux pas. I am not saying you can't get yourself an awesome new dress for a special occasion, but that doesn't mean you can't wear it more than once. Styling is all about using already existing pieces from your wardrobe and making use of them in a new way every time. I often wear the same shoes or pants for different looks, and proudly post them on my social media.
3. Carry Your Own Shopping Bag – This is one of the easiest way to lead a sustainable lifestyle. Try to reduce the use of plastic and even paper bags for that matter. The next time you go shopping, even just to your neighborhood grocery store, carry your own resuable shopping bag. Now how is that a hard thing to do?
4. Donate Your Old Clothing – Don't throw away your old clothes. Instead, donate them to a charity you know will make better use of them. You can turn the clothes that are torn and cannot be gifted away into cleaning clothes and recycle them smartly. In fact, if you're in need for some cash, there are many pre-owned clothing stores you can sell to.
5. Conserve Water And Electricity – simple things, like switching off lights and using energy-efficient bulbs, turning off the appliances not in use, turning off the tap when you are not using water, are impactful steps to a sustainable lifestyle.
How conscious are your cosmetics choices? What are some of the favourite brands you'd like to share with us?
I've always been very fussy about what I put on my skin. In addition to making sure that everything I use is free from harmful toxins and as clean as possible, I also make sure everything is always 100% animal-testing and cruelty-free.
Some of my favourite vegan-friendly brands are:
1. Hourglass Cosmetics: This luxury make-up brand is cruelty-free and has a good range of vegan-friendly options. Their highlighting palette and blushes are amazing, and the packaging is so elegant and sophisticated.
2. Jane Iredale: I've been using its tinted lip balm and it's entirely vegan. It's packed with all-natural and clean ingredients, has SPF15, smells good and delivers a nice hint of colour. It's the best lip balm ever!
3. Winter Organics Cocoa Facial Scrub
Summer's balmy temperatures, humidity and beach batching can play havoc on your skin. Formulated with organic, innovative ingredients, and 100% natural exfoliants, such as bamboo powder, argan shell powder and olive seed powder, this cocoa scrub protects from whatever nasty things summer weather does to the skin. I love the fact that not only is it packed with safe and clean ingredients, but even their packaging is eco-friendly (the tube is biodegradable).
4. For lipsticks, I absolutely swear by Lush Cosmetics and Kat Von D
5. I never leave home without a good sunscreen. The mineral sunscreen from Beauty By Earth is my absolute favourite – it's free from nasties and doesn't break out my skin.
You are based in Dubai. How easy is it to make waves there promoting ethical living? How would you describe the general opinions in your region about sustainable living?
I've travelled to countries, like Germany, Sweden and Norway, and met several ethical influencers from these regions. I must say that Dubai has a lot of catching up to do. When you talk about the average Dubaite, sustainability is far on their agenda. Being an indulgent society, a lot of awareness about sustainability is required – whether it is about reducing waste, recycling, or about making conscious everyday choices. Luckily, the government is already taking several initiatives to place Dubai on the sustainability map, for example hosting International Forum on Sustainable Lifestyles. At the grass root level, though, there's a huge need of awareness that's needs to be created among its people.
Fortunately, there is a new breed of ethical influencers that's growing. Many social start-ups have also started in the region, so I am positive we will see a lot more action. I'm glad to be one of the few bloggers from Dubai taking the lead on promoting sustainable lifestyle. I'm sure things will change and there will be more of us.
"When you talk about the average Dubaite, sustainability is far on their agenda."
What keeps you going and inspires you right now?
My passion for cruelty-free lifestyle, love and respect for every living being keeps me motivated in spreading my message of ethical living!
What's the message you'd like to bring forward with your current platform?
With every purchase we make, we cast a vote with what kind of world we want. As a consumer, we have the power to bring a change. It's time we exercise this power and support brands that not only offer beautiful products, but also care about how it is made and where it comes from. Ethical living is the need of the hour – let's make it happen!