We talk beauty and beyond with Brook Calixto, founder of Sherwood Skincare, to reveal what's vital to our skin's wellness, learn how to reap the benefits of plant-based oils, and peek into this summer's best beauty trends. Brook's tragic personal story of losing her loved ones to cancer inspired her to give up chemicals and excel at plant science - she started mixing together her own, anti-allergy skincare at home, opening the treasures and secrets of magnificent Amazonian plants, which later paved way to creating Sherwood Skincare. Although different beauty fads are seasonally trending, Brook advises us to read our cosmetics labels more carefully than ever before.
Words: Hanna-Amanda Pant
How does choosing the right beauty products contribute to our well-being? Are natural beauty products actually scientifically-proven better, or only so, because healthy living is trending?
Every product has special properties that are beneficial to our skin and health, which contributes to our overall well-being. Whereas I'd like to highlight, being aware of the ingredients you apply to your skin is crucial. We have a lot of cancer in our society today, so we have to be careful about what we put on our skin, to eliminate any risk of toxic chemical exposure to our body.
How are Shwewood's cold-pressed Amazonian oils benefitting the skin?
Each one of our oils has its own set of properties and benefits for the skin. Acai Berry oil is Rich in Omega 6 and 9, essential fatty acids, phytosterols, vitamins, minerals, and amino acids. It contains a high amount of anti-ageing anthocyanins, which is wonderful for mature skin. Passionfruit or Maracujá, as its known by the locals, is wonderful for its relaxing aromatherapy properties, as it brightens the skin and rejuvenates with high levels of Vitamin C, essential fatty acids and antioxidants. Pracaxi seed oil works wonders for skin and hair. One of the highest forms of Behenic Acid 6 times higher than peanut oil helps restore dry damaged unruly hair and also works on skin to reverse hyper-pigmentation of the skin. Buriti fruit oil is rich in Vitamin A and has 5 times the amount of Beta Carotene than carrots, and is rich in essential fatty acids. Rich in oleic acid and antioxidants this helps to restore dry damaged skin and hair.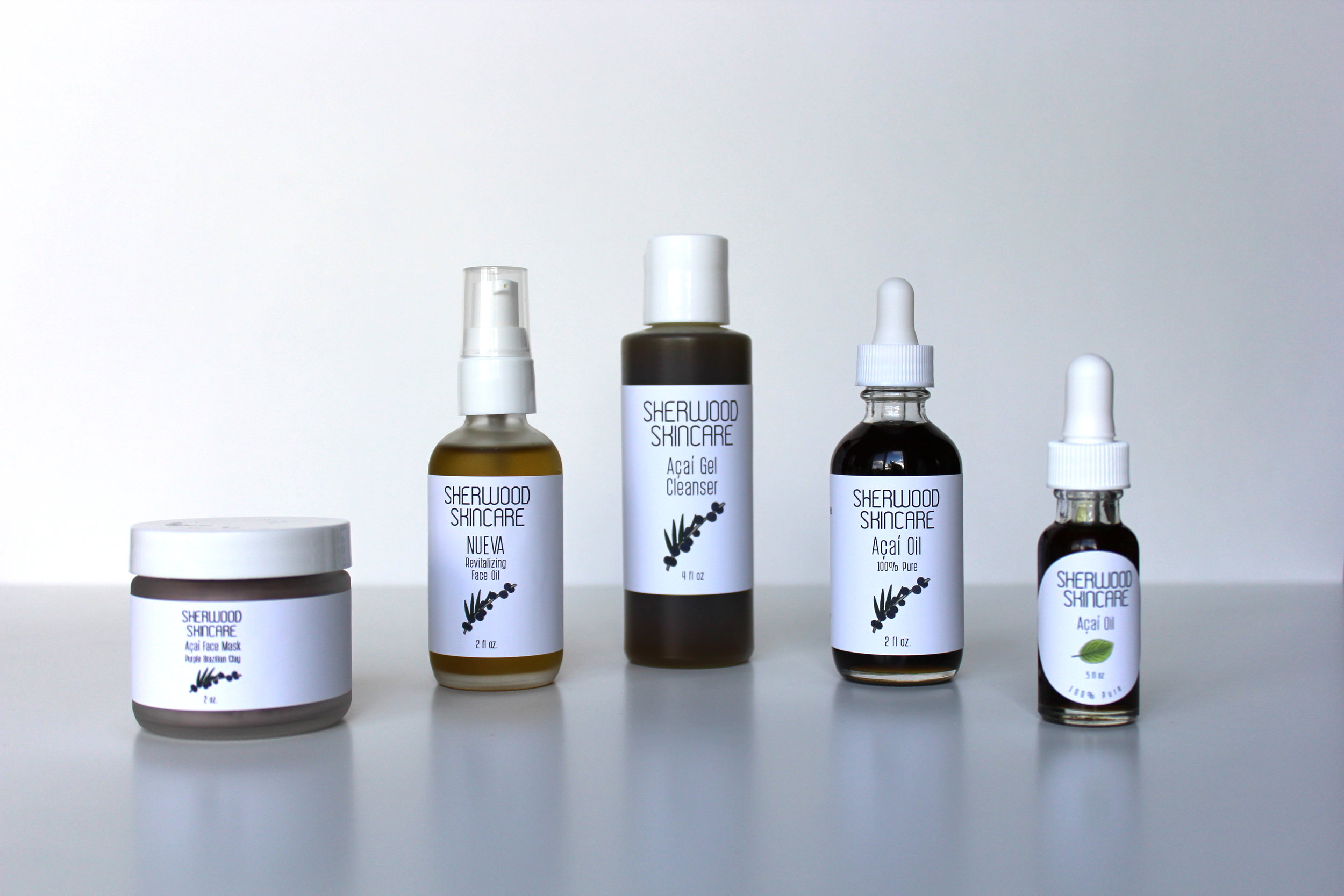 Sherwood Skincare & Power of Amazonian Plants #Savant
What else is unique about your range of products?
We use only raw plant oils of the highest quality that are not subjected to any chemical processes. All our oils are wild-harvested, sustainable and ethically sourced from the Amazon Rainforest. They are rare and native to Brazil — 100% pure and contain no additives, or dilutions. All the butters are nonhydrogenated. Nothing is ever tested on animals. By purchasing Sherwood Skincare products, you are supporting sustainable agriculture in Brazil and helping prevent Rainforest deforestation. It also gives the communities a way to preserve the native natural resources of the Amazon Rainforest. All products have full-traceability of raw materials sourced from the Amazon Rainforest and other Brazilian ecosystems.
Did you, at some point, encounter a personal realisation about the beauty industry that aligns with the brand's story?
When I was a teenager, my father passed away from cancer. Becoming pregnant and being a new mum, with my husband diagnosed with cancer, I have veered away from using skincare products containing harmful ingredients for my family and I. I search high and low for friendly skincare products. I'm a voracious reader of labels, so I decided to start my own skincare line worthy of my use. With love of travelling, and a passion for Brazil came my inspiration.
What are your best beauty and personal care tips for this summer?
Our Bronzing Body Oil is filled with Amazonian Oils and boasts just the right amount of depth and shimmer to create that Brazilian Glow this summer. Mix a couple drops into your foundation and apply all over for healthy glowing skin. For an on-the-go glow, try our all-over glow stick for a bronzed look anywhere. Our lip and cheek stick in Rose is also wonderful for a flush of colour on the go. Applying technique for cheeks — smile, dot on the apples of your cheeks, then blend. Wear alone, or over your foundation. Our hydration mists are also wonderful on those hot summer days, for refreshing your skin, we have 2 kinds— Flor, which is made with steam distilled organic Neroli blossoms, or our Herbal Hydration mist, which is made with refreshing basil and cucumber.
"Some people expect immediate results from beauty products, yet sometimes it can take months until you see a real change and result in your skin, so don't give it up right away."
In your opinion, are there any beauty myths mainstream magazines and beauty editors are hyping about, which are yet to be proven to be true?
Try not to follow the crowd because most of the time its just the latest fad. Think about what's important when it comes to what we put on our skin: self-education is key, knowledge is power. Reading ingredients and learning about the products you use is the most important.
What are there faux pas to avoid, when it comes to beauty and choosing beauty products?
Some people expect immediate results from beauty products, yet sometimes it can take months until you see a real change and result in your skin, so don't give it up right away.
What's the one must-have product to have from your range?
Our current best-selling products are our Maracujá Oil and Passionfruit Oil. Our oils are undiluted, meaning it's not 5% mixed with a cheap oil, it's pure 100% of the real stuff you're getting. Also, this oil is unrefined. Have you ever tried a true unrefined oil? I grew up only knowing refined oils, they are void of colour and smell, and there are a lot out there still today, I thought I knew what true Maracujá oil was, but little did I know the fresh, straight-from-the-source stuff smells like juicy Passionfruits, bursting with smell and has an amazing relaxing effect. It's a wonderful moisturiser and great choice for those suffering from oily skin and clogged pores. This is a lightweight oil and doesn't clog your pores.