"We don't do animal testing. If you do your research you will know that many Chinese brands do it, but these lipsticks are sold out of China, so none is required," the small Chinese brand Kalijumei states in one of their Instagram captions. The brand that has recently gained worldwide recognition with its magnificent floral lipsticks has been awarded the most beautiful lipstick status by Vogue and Cosmopolitan.
Words: Aleksandra Medina
Here's the fun part: the lipstick that contains only natural ingredients, such as candelilla resin, cocoa butter, beeswax and lavender oil, changes its colour according to the wearer's body temperature, leaving different glossy shades of pink on your lips. The warmer you are, the darker the shade. The lipsticks contain a dye called 'Red 27' and the final colour on your lips depends on the amount of dye inside the product. When the dye comes into contact with moisture, it's nothing but the change in pH that causes the dye turn light pink. So naturally, the warmer you are, the darker the lipstick shade turns. Because the dye itself is colorless, the jelly lipstick is see-through, allowing us to enjoy the beauty of the dried little flower inside. Unfortunately, the lipstick is not vegan, as it contains beeswax, however, it does not contain gelatins, according to the brand.
What brought this jelly lipstick worldwide recognition is the fact that inside each lipstick is hidden a tiny little flower, which can be removed once you have used up enough of the smooth lip balm. This has sparked a craze amongst beauty bloggers and YouTube stars, who have flooded the Internet with Kailijumei lipstick reviews, with some of them going as far as cutting the lipstick open to show everyone what is really inside the famous lipstick.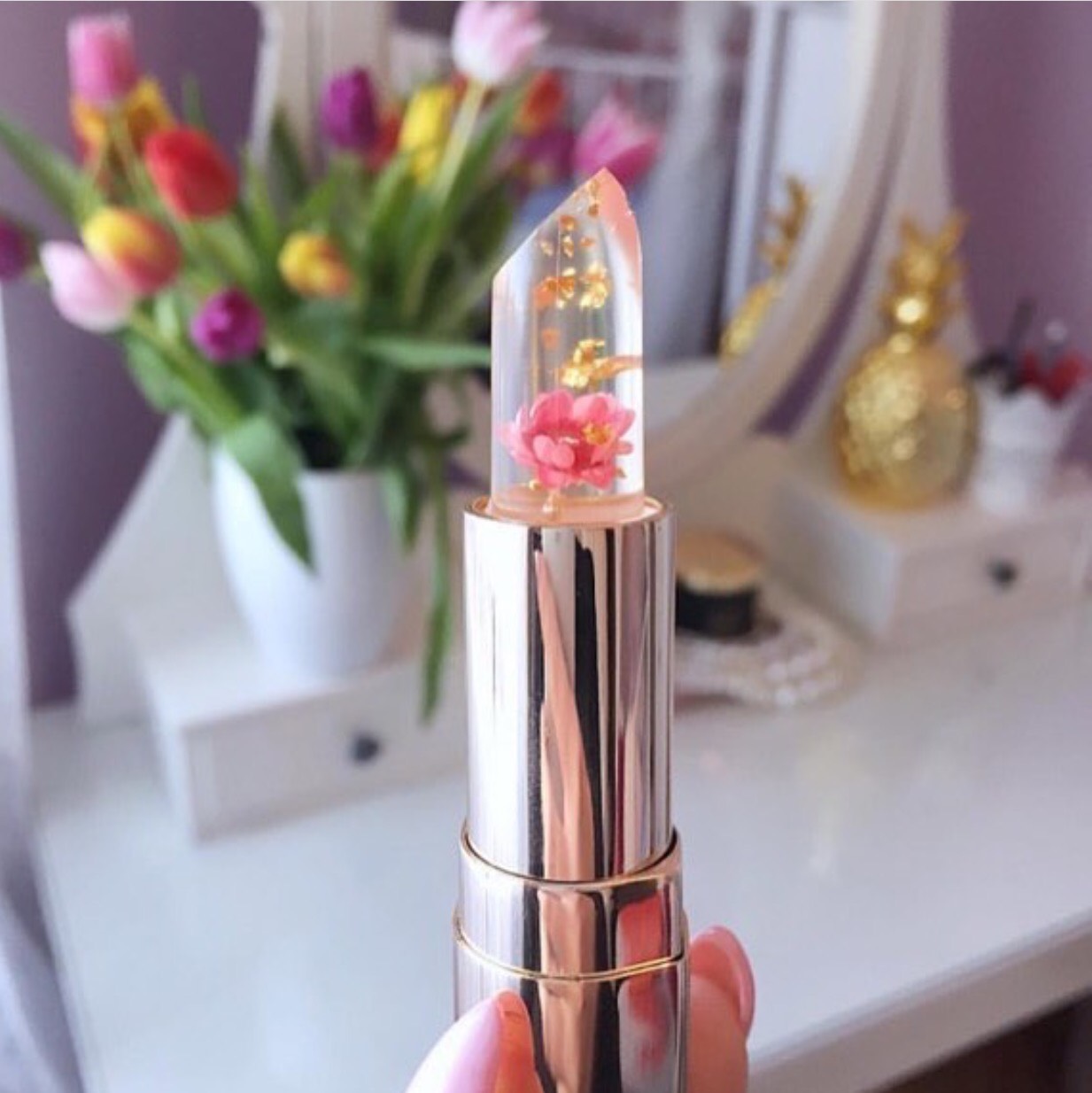 Kailijumei Lipstick #Savant
Its pleasing aesthetics and swift social media fame helped gain Kailijumei lipstick a prestigious title - it was sold out faster than the youngest Kardashian Kylie Jenner's lip kits, a favourite amongst teens. Since the lipstick itself seems colourless, the lipsticks are named after the flowers inside of them. Currently, the Chinese brand offers three different tones: Flame Red, with a bright red flower inside, Barbie Doll Powder, adorned with a tiny light pink flower, and Minute Maid, with an orange flower inside the lipstick, which all result in different shades of pink when applied, plus, a clear balm. Additionally, they have launched a limited Japanese edition.
So, regardless, if you decide to buy the lipstick because of its natural moisturising characteristics, or because you think it is absolutely gorgeous and pleasing to look at, know that it is a leading innovative brand from China that stands against animal testing and is known for using all-natural ingredients!