For the past few weeks, I've had the pleasure of testing out a few products by Estonian luxury skincare brand D'DIFFERENCE. Created by a doctor, this brand is made for bringing out your real beauty. Particularly, I fell in love with three products from their Natural Beauty line — the 4D Mild Cleansing Gel for face and eyes, 4D Delicate Smoothing Exfoliator, and the 4D Universal Revitalising Face Cream.
Review by Johanna Raudsepp
First impression — the packaging is gorgeous and makes you feel special. But what's inside changed the game for me. I started off by using the Mild Cleansing Gel, which is very easy to apply and wash off — perfect for daily use. It also acts as a makeup remover, which came in handy after a long day at work. For a deeper cleanse, I used the exfoliator — they recommend to use it twice a week. You can either rub it on and let it set, or use it as a mask. I have tried numerous exfoliators to clean my pores, but this was a real game-changer — easy to apply, easy to wash off, and brought a hydrating effect as a bonus. Enriched with flower acids and natural oils, this product quickly makes your skin feel silky smooth.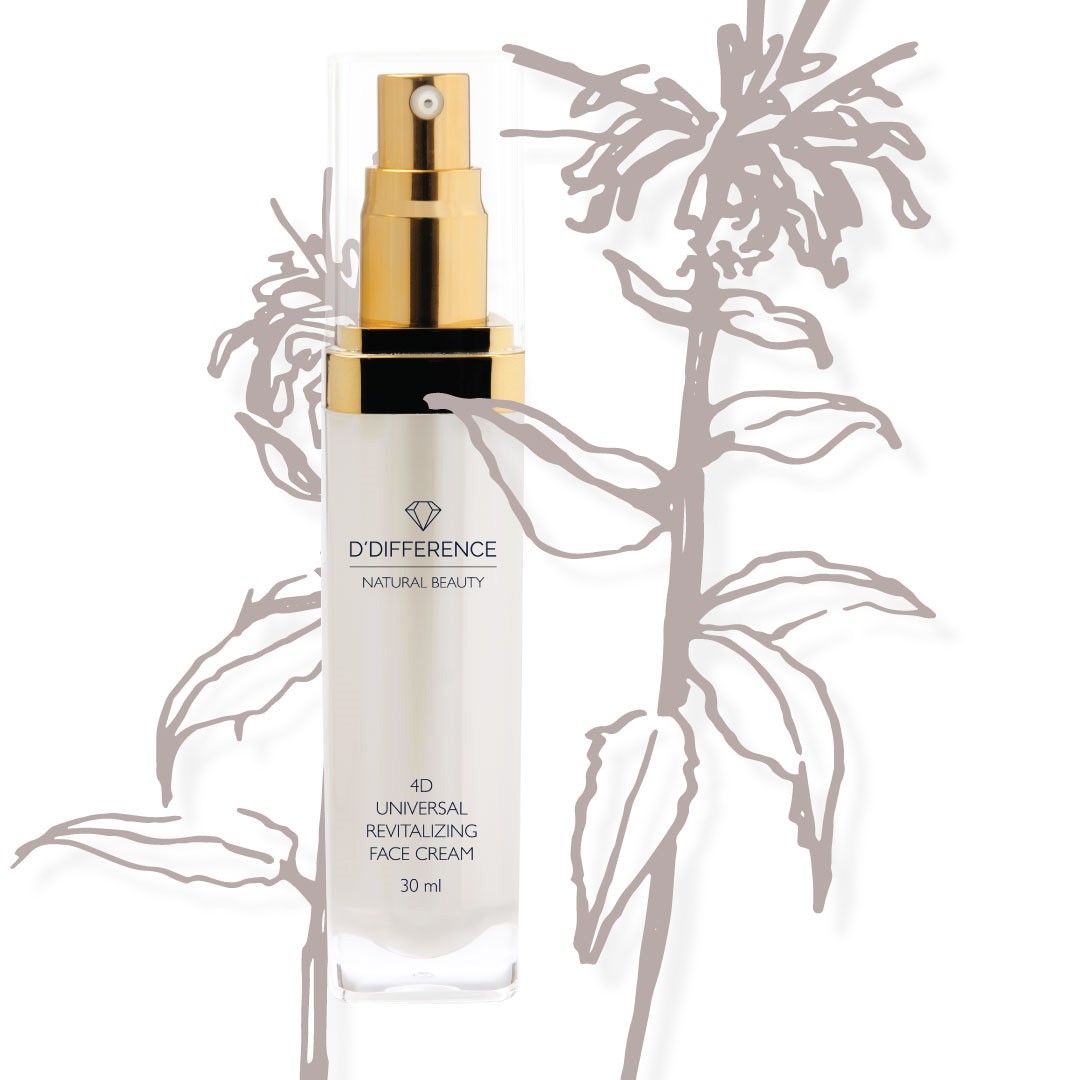 D'DIFFERENCE Luxury Skincare #Savant
After cleaning my face, I used the Revitalising Face Cream. What's special about it is that the cream is incredibly light in texture. You only need 2-3 small pumps — and it's more than enough to hydrate your whole face. It absorbed quickly and left my skin moisturised for the entire day, without making it greasy. I like that it didn't leave my face with this burning feeling some natural cosmetics products create, therefore it's perfect for sensitive skin. These three products are winners for me. And using them is as easy as 1-2-3.
Wanting to know more about the creation of these fabulous products and share their story with you, I asked a few questions from Carmen Kibur, Brand Manager at D'DIFFERENCE.
The trend of natural cosmetics is picking up momentum all over the world. How does D'DIFFERENCE apply ethical principles in its day-to-day production?
Our production process is in accordance with ISO14001 standards established by the environmental management system. A lot of the components we use have ECOCERT, NATRUE or COSMOS certificates. As D'DIFFERENCE is a luxury skincare brand, we must make products that are highly effective, which means we do feature some synthetic components (preservatives and thickening substance). The founder of D'DIFFERENCE is a doctor and therefore quality shelf-life value is important for us — we wouldn't want any kind of bad microbiological action going on in our products. However, our laboratories are constantly working on finding a natural alternative to the very few synthetic components we use. All our products have passed dermatological testing at 0-value and do not irritate the user's skin.
What makes D'DIFFERENCE skincare unique?
There's quite a list of things. We use a cold-mixing method, which means that none of our components are heated, enabling the natural ingredients to remain unchanged. D'DIFFERENCE uses a patented emulgator, which is featured in all our products. You could say it creates a time-release system, meaning that the skin absorbs the ingredients gradually thanks to this emulgator. And of course the light consistency of our products — you don't have to use thick oily creams to moisturise. We have seen that a lighter solution seems to work wonders for many of our clients. I love it when our clients share their excitement from using our products with us. It's the best compliment, truly.
You also have a skincare line for men (D'DIFFERENCE For Men). Is it more difficult to create products for men, and why?
It's not more complicated but since men's skin is thicker, has more pores and tends to be oily, then we have to customise our products to fit that criteria. Our Rescue Eye Cream, for instance, was created in collaboration with an ambulance medic, who said that he needs an eye cream that wipes away all traces of exhaustion after a night-shift. Its cooling components and peptides serve as an effective relief for tired eyes.
"Our Rescue Eye Cream, for instance, was created in collaboration with an ambulance medic, who said that he needs an eye cream that wipes away all traces of exhaustion after a night-shift."
They say that first impressions are everything. If D'DIFFERENCE passed us on the street, how would we recognise her?
D'DIFFERENCE is tall and enchanting, very poised and with glimmering eyes, which make them so charismatic that no matter the attention they get, they are always present — sincere, authentic and real.
Make sure you check out their awesome product ranges at www.ddifference.com !