We often succumb to a dreamy interpretation of our days away, often projecting dreamy August nights spent by the ocean admiring pretty burnt orange pastel sunsets (and seeing your favourite influencers floating in crystal-clear pool waters on inflatable rubber Flamingos in shades of pink does not help, too), but why not share the ugly details of our trip? We romanticise our holidays, but sometimes, perhaps, we should just talk about things the way they are...
Words: Hanna-Amanda Pant
Does anyone actually know how unbearably uncomfortable it is to stand under 38 degrees of heat in the heart of Barcelona midday without the slightest movement of breathable air? So that you and your best comrades are unable to hold hands without pouring out liters of sweat gently touching each other's palms and, in general, the experience of strolling along the otherwise idyllic Gothic Quarter turns out as unromantic as it can be? I'm not even going to dedicate a separate paragraph to the state of my messy, curly hair and the damaging effect on it accumulating with heat... so that your hair resembles more a spider nest than human hair. And even day 3 of combing it straight in the shower with 5 separate organic coconut elixirs doesn't seem to change a thing, but let's leave it at that. All you want to do to ease the holiday mishaps is hold a cold beer in your left hand as a constant. Or just eat fresh Shrimp Royale al-fresco on the seaside 7 days in a row, numb from your own social experiment of avoiding negative, destroying thoughts.
Does anyone actually even know how unbearably uncomfortable it is to sleep when you're aircon is turned to 100, but you find no comfort in any imaginable position there is (be it fetal or just lying half-dead on the back). And even lying comfortably turned on the side in each other's arms, I mean finding peace in one position only, is scarcer than accounting an Amour Leopard during one's lifetime. Needless to say, how irritating the banging of the doors at the guest apartment complex can be, and arriving guests humming and dragging their Samsonite's wheels (the noise still comes to me as a recurring memory (nope, nuisance!), imagine an orchestrated humdrum of suitcase wheels meeting beton floor 3a.m. at night when all you're trying to do is at least get close to an invigorating nap), most youthful hotel guests get back late (or too early) at dawn after passing a night of frivolous siestas... or stop by only to check-in at early morning hours. In fact, you might need an extra bed or opt for a twin bed even as a couple as it's (and I'm not joking this time) way too sticky and yukk to sleep next to another human being. This rather humid situation with scorching temperatures can turn out even damaging to your own processing of thoughts. You slowly resemble a monster stubbornly fighting for your own rights. And bed space. And no, it doesn't matter whether it's a boyfriend or sister, the greatest thing to do would be still to sleep in separate beds. For your own sanity.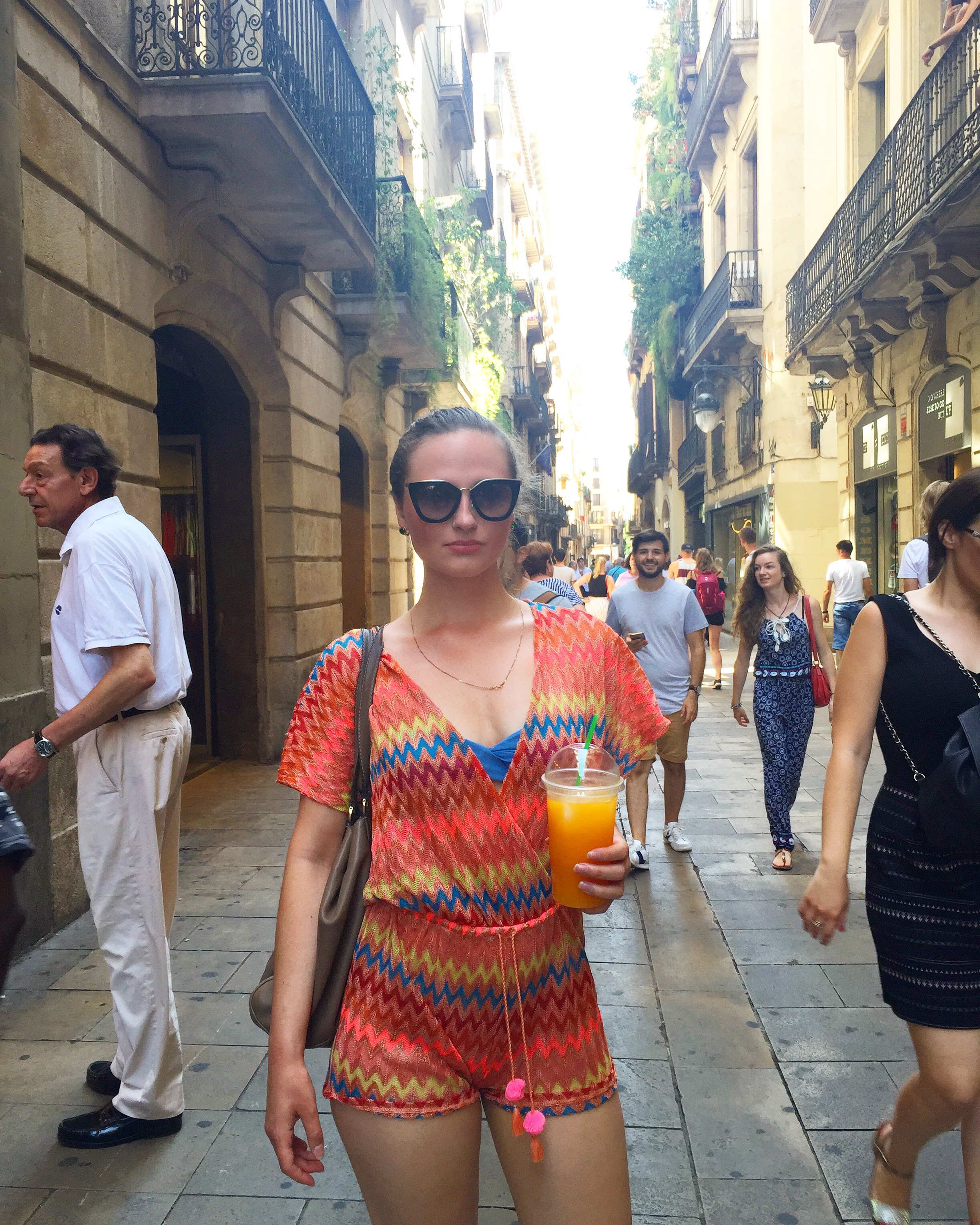 Editor's Letter August: A Spanish Holiday... Unfiltered #Savant
Gothic Quarter, Barcelona / Photo: Author's own.
Does anyone even imagine the slightest how many beggars there are in Barcelona? You cannot even spend a minute at the restaurant table (kind of ready for a romantic meal), when a bunch, say 3-4 of them, approach out of nowhere and ask for spare change. My advice would be: even if you want to be generally generous in these situations, it would be best to ignore, as many of them are frauds. And even if you decide to feed your altruistic, caretaker side of Self, you may discover you've run out of funds sooner than you thought.
Has anyone even ever felt how unbearable the movement of sea is at a rather stormy night? The way the boat tries to speed up its journey in the darkness of the night can be a nauseating experience to those sensitive to the spontaneous movement of waves; the way they flock together to fight against the boat's own stable course at unknown latitudes. Even if you've booked a first class cabin on an overnight cruise ship to catch up with necessary rest, the way the engines move in the dark and scary sea fuelled the lasting effect of vertigo for days and days for me. Which I still haven't overcome, after days of end of holiday.
Despite all that inconvenience navigating mid-August Spain, the country is magnificent and rich in heritage. The light, the sea, the endless rows of palm trees, the music, the friendly dogs. Hospitality and the people. You cannot help but smile all the time when interacting with the locals (and their dogs).
No matter how many times a day you change clothes to avoid stickiness, the experience doesn't turn out any more comfortable. But what helped? Aka your quick know-how of emergency packing and navigating the city. You shouldn't even enter the streets of Barcelona without noting that:
- You're probably going to eat 3+ ice-creams a day
- Spain is no land of pasta, but opens a door to the world of excellent fresh sea food and paella. Cherish that from the start!
- Carrying a laaaargeeee 1.5-liter water bottle everywhere is something you'll consider sacred on day 2
- Keep close a lot of spare change for ice cold lager (as you cannot always count on credit cards in this town)
- Carrying an extra Tee to the beach becomes compulsory sooner or later
- You should never step out without a protective layer of 30+ SPF sunscreen, especially covering the key areas on face and shoulders
- Choose flip-flops not to exhaust your feet and believe me: you will do a loooooot of walking. Along with it: some plaster strips for sore feet. You probably also won't regret when you choose a wide-leg one-piece for strolls, so no tight, uncomfortable waist bandages are bothering you when the scorching temperatures get extra sticky (thanks to it, walking also becomes easier after a huge afternoon meal)
Also some further navigating-Spain-like-a-pro tips:
- Never start your day with a huge breakfast feast, as heat can numb your taste buds, so you might end up losing appetite for the entire day altogether. Rather, have a light bite and leave space for a good afternoon lunch at a favourable a la carte buffet (these have cropped up everywhere at convenient locations)
- Definition of 'loud' most probably becomes open to interpretation
- Cold beer helps to solve every single issue post 1p.m. (or if you want a change, pair a glass of cava brut with dinner)
- Night walks help to cope with excessive heat and prepare your senses for bedtime
- Be very nice to the restaurant owners, waiters and bartenders. They are really under pressure during the high tourist season, so your simple 'thank you' and 'goodbye' and a rewarding recognition of their service does make a significant difference and even help them stay welcoming and attentive, whilst keeping up with orders. Be understanding and remain polite, even if they don't get your attention immediately. I am sure they wish to be at your disposal at all times, but the dinner hours are overcrowded. Also, learn that their momentary loss of temper doesn't mean they're rude. Imagine how you yourself would feel under such pressure.
- Learn to order at least your favourite drinks in the local language. That will guarantee you will never be ripped off, as you're attempts are always appreciated. At least for us it meant not always paying the tourist prices, where expected.
- What we'd consider an XL G&T in other parts of the West is just a regular drink there... (PS! It does come in a glass too large for a single person, so learn to share asap).
- Some of the best food available in town is served at the beach, so learn to make yourself very hungry post waterfront activities! You would think that it's necessary to bring your own berries and a picnic bag to curb hunger and grab a quick snack. But actually, to my surprise, there's a huge range of cuisines available right at the beach. You won't be missing out on anything. So after a lo-ong day lying in the sun, you may want to opt for some great burgers with a nourishing soft drink... yummy, we found the best ones at Bacoa, a well thought out burger joint, offering vegetarian options, too, for us non meat lovers.
- Also, don't overdo sweets in the morning. Sometimes I would opt for a super sugary cappuccino and then an extra sweet pastry with chocolate filling and chocolate topping. Clearly too much when you're digestive system has just woken up. Sweet indulgent things should be best friends in the afternoons as an energy snack, but not replace breakfast (although surrounded by all those dreamy cakes and churros, it's often hard not to resist!).
- You may want to choose a breezier atmosphere for night-time activities, for example lounges and bars at the seaside or close to port. We frequented OneOcean Club in Barcelona quite a lot for trendy crowd spotting and more private, yet buzzing atmosphere just down at the port next to the Barceloneta beach strip.
- If you're so tired you cannot walk, but there's still miles and miles to go till hotel, find a fountain to take a break at and cool off a bit. Spanish music in the background by street musicians also helps to cheer up and make the remaining walk worth it (while boosting the mood)!
- Never skip that very necessary afternoon nap between 2-4 or 2-5. It helps to recharge your batteries and fight feeling phlegmatic. Only come out for dinner very late in the evening, around 10 or so. Most restaurants, in fact, are closed around 7-8.
- Although Zara is temptingly cheap and available in Spain... rather peek into local vintage shops in the Gothic Quarter. These small boutiques are also home to many wonderful sustainable brands that use only local fabrics and produce to make their goods. You could almost lose yourself for half a day wandering around these tiny shops, and it's totally worth discovering.
- Wander around lesser known attractions, like Llevant beach, Torre Baro for views, or Sant Andreu market. After all, all your activities need not revolve around admiring Gaudi's masterpieces and lazing about Las Ramblas. Sometimes all you need is a dose of inner peace. Not everything you enjoy in Barcelona needs to involve splurging packs of cash.
- And just remember: you're not obligated to take too many pics to make others jealous you're on holiday. Keep some adventures to yourself only, and observe how they slowly become a degree dearer.
- Keep your ignorance at home and be ready to discover, adventure. You're on holiday to take the best memories of the year back home with you — a holiday should, after all, entail a spectrum of colours, aromas, the sun, lagoon water and that special, mythical quality of the light that is only found at the destination.
And all these inconveniences? That's the price we pay for the frequent hunger for travelling, I guess.