Lalique, the French crystal house that was founded by Rene Lalique in 1888, has taken over the luxury industry with its conceptual approach, from perfume and jewellery, to homeware, fine art and interior design. Today we look at Lalique's latest furniture collection designed exclusively by Mr Pierre-Yves Rochon, the Parisian interior designer renowned for creating timeless pieces and interiors for luxury environments and the finest hotels of the world. 'Signature' presents his modern take on furthering classic French style and ideals. "Excuse my Parisian English", he laughs, when we sit down for an interview to discuss his latest collaboration with Lalique. He tells me how he managed to merge the timeless Lalique designs with what fits today's contemporary interiors, and the beauty of seeking inspiration everywhere, especially his dreams.
Interview by Aleksandra Medina
You are presenting your Signature collection today in London, which was designed exclusively for Lalique. What influences and eras does the collection bring together? Does it go back in time, reflect the present, or look into future?
It's a combination. First, the crystal, the metal and the transparent elements are what you saw in the Lalique work in the beginning. I hope it is a continuation of Lalique, yet altered to be suitable for the market today. Sometimes you need to make a statement with a huge decorative piece. Looking at the Coutard table, the metal and the mirror are more modern and futuristic, while the crystal brings back the past heritage of Lalique. When Lalique asked me to design a piece of furniture for them, I tried to make it just right for our era. That said, when the customer is looking at the piece of furniture or interior element, they automatically feel that it is characteristic to Lalique. Above all, it should reflect the aesthetic of the house.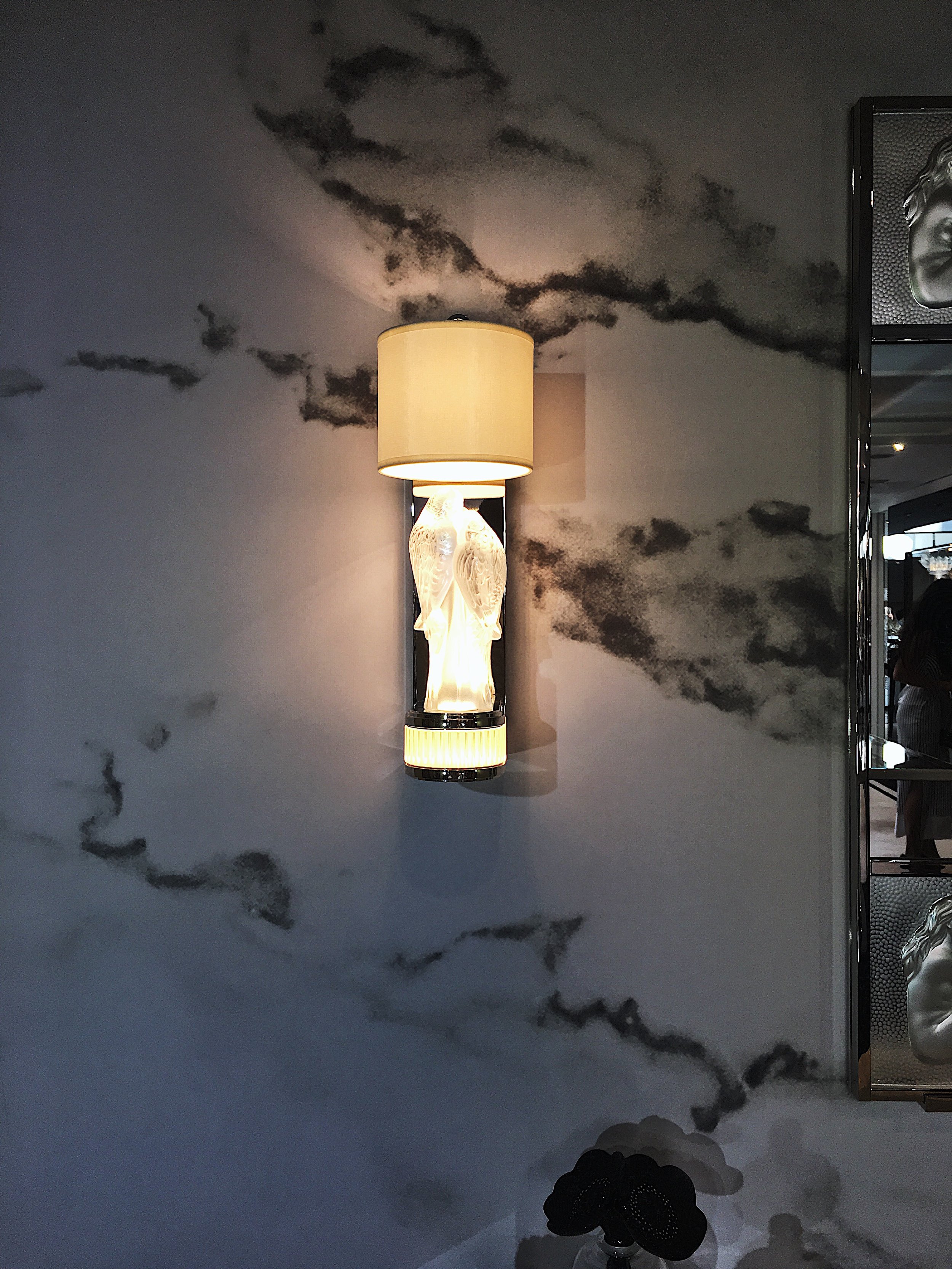 Lalique x Pierre-Yves Rochon: Signature: PERRUCHES Applique #Savant
To what extent do fashions in furniture design reflect the current era we live in? If you had to design a furniture piece that merges Lalique with today, what would it look like?
Looking at the Vibration Commode (the dresser), I think that this piece is the perfect example of merging Lalique with today, because it's more contemporary. It's not too ornate. Secondly, that one is a completely unexpected Lalique piece. Here, we decided to use bronze instead of nickel, which is more characteristic to Lalique. The crystal used here is not transparent crystal, but gold crystal. When I saw these vases [talking about vases on top of a cabinet], as you can see, these animals in gold and black, I thought this is a new Lalique tendency, so I wanted to include some of that, too. That's why I also decided to introduce a more contemporary approach to my furniture, merging the work of crystal with other elements, such as metal.
I see marble here, too. That's very contemporary, people use it a lot these days.
There's marble and inside, the door is impeccably finished - no ugly hinges - just pivots and wood and pear wood which works very well with black as it absorbs the colour, and then you have this immaculate laser finishing and black crystal. When you merge the world of Lalique and you want to be more up-to-date, more contemporary, that perfectly reflects the idea. The design of the lines is more clean. We use bronze here which is a new combination for Lalique.
Why did you decide to use bronze?
If you check the 30s again, we used bronze a little bit in the UK, but the French and American preferred pure design in the 30s. Also, for inspiration, I was looking at the new way they are pairing crystal with gold, I think the bronze works perfectly with it.
What makes a good piece of furniture? What do you think is the most important element?
You don't buy a piece of furniture just to look at it. It has to match the criteria, to be functional, above all. If it's not functional, it's not furniture. To draw an example, when I was designing a piece of furniture for the bathroom [Causeuses Vanity], I thought crystal and water go well together in the bathroom and did not exist in the Lalique world before. I introduced the bathroom furniture to Lalique. I think the proportion is there to fit in a room, the height is right, it is also functional: I can wash my hands, I can keep some things on top. It's not just a simple piece of furniture. I think, the body of the females pairs well with the bathroom experience, the water. The crystal is good with water, too. That's why I proposed this vanity. The shape is not sharp, as you can see. If it's sharp, it's not the best thing for the bathroom. We also designed the faucet.
"I dream. Because without that, you cannot design. This is why our job is fantastic, because mostly we are the dreamers."
You have worked with mostly 5-star hotels and lavish restaurants. Where else can you imagine seeing your designs?
Residential for sure. But you can also use it in a suite. I already feel it fits well in the presidential suite. Also, for our private orders, because you can play around with the original Lalique design. The Coutard Table – I imagine it in a hotel lobby as a Schweitzer table with flowers. It would also fit into the lobby of residential houses. I really feel that when the design is right and a little bit timeless, you can use it everywhere. Here, the Vibration Commode uses classical panels and is very simple, yet elegant. It would look great in a castle, a huge space. I think, firstly, the design has to be right and, secondly, the materials, whether bronze and crystal, or nickel and crystal, need to be of high quality to make a piece look elegant. When you add beautiful marble, the piece can easily fit in any place.
Which is your personal favourite piece from the collection?
The table.
If readers want to improve one thing in their living spaces, what is the most important décor element to focus on?
Firstly, it should be the piece you enjoy the most. That is the dream answer. If I want to change something in my house, I should please myself first. The piece you will enjoy is better than the piece you need. Maybe it is not the one that is the most reasonable to buy, but I enjoy it for its aesthetics.
Lalique x Pierre-Yves Rochon Signature: COUTARD Table
Is there a piece that reflects your personality?
I love the Coutard table. I feel this table is a continuity of Lalique, referring back to early days of Lalique. But also the dresser is a completely new world for Lalique. It's not just one piece of furniture, because it uses bronze and an entirely new treatment of crystal. Inside, there's wood and all the minor details. I can't choose between the two.
What do you think about when you're designing? What are the thoughts that visit your mind when you need to create a new design?
Firstly, I think about what I'm going to do. If you don't think about what you're going to do, you don't know where you're going. And then, after that, I dream. Because without that, you cannot design. This is why our job is fantastic, because mostly we are the dreamers.
What still gives you inspiration to create?
If I say everything, you will be surprised, but it could be you right now, in this room. When I'm walking in the street, I'm always curious about what's happening. Not only about life, but more about the architecture. If I'm going to see a movie, the theatre or the opera, it's a big inspiration for sure. All these things. If I'm travelling to different countries. All these moments give me a different road to inspiration. You should always remain curious.