We all have that one friend who loves DIY everything. Whether it's making furniture or clothing, they do it all by hand. And deep down, we're all envious of them because of their one-of-a-kind wardrobe. With fashion changing every season, it's hard to keep up with trends: it is draining both for our brain and our wallet. Tracking down those key items that would outlast every season, however, is a difficult task. That's why it's easy to simply go with the flow and shop at H&M and other fast fashion chains, not paying attention to the impact of our fashion choices have on our planet. And then there's that friend who makes timeless pieces so unique they fit well every occasion. So that makes me ask, how trendy is making your own clothes in 2017?
Words: Johanna Raudsepp
It took me a while to dig deep within and get to the core of where this 'making your own clothes is not trendy' attitude comes from. I remember when I was in middle school, it was cool to follow the latest trends, always. My mum, on the other hand, enjoyed thrift shopping and sewing clothes herself, if time allowed it. Long story short, I was not one of the cool kids of the block in school. I guess that sort of created a resentment towards sewing as well. We had the best handicrafts teacher ever, but no matter how much she tried to teach me, I still turned out a failure: my self-made clothes never came out quite right. Fast forward 10 years into the present day, I now wish I could sew better. Project Runway is one of my favourite TV shows to watch. And guess what - all of them participating in the show are people who make their own clothes (and clothes for others)! Creative people, designers, nay, fashion designers! So who am I, who are we, to say that making your own clothes isn't cool enough? That's how we got clothes in the first place!
Our mums and grandmothers made their own clothing with pride. Sure, it was partially due to necessity at that time, but by doing so they created elegant clothes that we now envy through monochrome photographs. Nowadays, we don't need to sew our own garments. But we are more aware of the impact the fashion industry has on our precious planet Earth. With that in mind, people are trying to make things themselves, rather than pay ridiculous amounts of money for an impersonal item that thousands of others already have. With the rise of platforms, such as Pinterest and Etsy, we can gather more ideas and have an ever-accessible outlet for our creativity. I think that's quite neat. I just stumbled upon a video on YouTube the other day, where TheSorryGirls took on a dollar-store challenge (video below). And one of them created a stunning plant table with hairpin legs, using a clock and toilet paper holders. It was pretty amazing.
"Our mums and grandmothers made their own clothing with pride. Sure, it was partially due to necessity at that time, but by doing so they created elegant clothes that we now envy through monochrome photographs."
Now, going back to clothing, there's two ways you can make your own clothes. First of all, the first thing that comes to mind - making everything from scratch. But I'm quite sure most of us don't know how to sew well enough for that endeavour to turn out great. However, if you do want to take that journey and learn through making mistakes, then go to your local store and get a fashion magazine with sewing patterns in it, such as Threads or Vogue Patterns. The other way to make your own clothes is by making alterations to pre-made garments. You can add a touch of detail, or even take the garment apart from the seams and sew it back together according to your personal taste. One amazing source of inspiration for that is YouTuber coolirpa (April) with her series Thrifted Transformations (see video below). She takes clothes found at thrift shops and turns them into modern trendy garments, while explaining every step of the process. April shows that upcycling clothes can be quite on trend.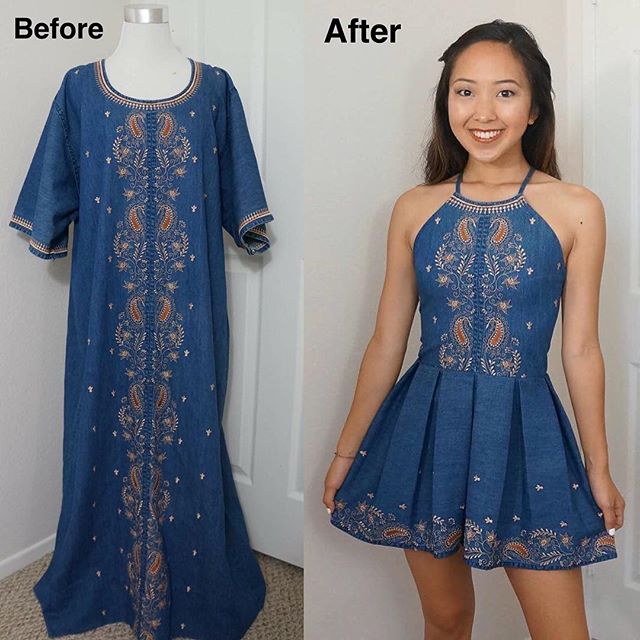 Coolirpa: Thrifted Transformations #Savant
I think that in 2017, making your own clothes is trendier than ever. It's an eco-conscious approach to consumerism: something we all struggle with, but should take steps forward to master. With the fashion industry leaving an enormous footprint on our source of life, it is about time we did something about it. Why not one garment at a time? When you have put time and effort into making clothes, you are less likely to throw them away because of the personal connection you have with them, and that's already a win for reducing fashion waste. Therefore, I believe that having unique timeless clothing that you made yourself is more on trend than any of those high street purchases. I could even proudly say making your own clothes transcends trend.