Latvian beauty company, Mara Naturals, aims to bring out the best properties of our skin and hair using the most natural ingredients. The brand was named after the powerful goddess Mara, who is a protector of health and well-being. Mara Naturals boasts a wide range of body, hair, shower and bath products, all created with a unique take.
Words: Johanna Raudsepp
First, I found myself exploring their range of skin and beauty goodies, and two products in particular caught my eye – body yoghurt and bath milk. "I love the indulging sound of that," I was curious. They truly sounded more like a breakfast buffet than bath products. I just had to try them.
Lured in by the product names, I embarked on a testing journey. First of all, what I loved about both of these products was that they allowed me to unwind, draw myself a bath, and just relax soaking in bubbles for hours. We lead such a busy life that we tend to forget about the importance of taking care of ourselves. Soon enough, my hot water was ready, so I opened the first packet of Elderberry Bath Milk. It was a powder, which you had to dissolve in your bath water. One packet is good for 2-3 baths. The water turned into a milky colour, as suspected. It had a mellow scent. I assume the ingredients made the water softer somehow, but I couldn't really tell much difference in feel.
Mara Naturals: Elderberry Bath Milk #Savant
After soaking in the bath for a good 30 minutes, I showered with the Elderberry Shower Gel+Bath Foam. This product comes with a good lather effect and a bursting berry smell. Elderberries have been used in folk medicine for centuries for their array of health benefits. After bathing, my skin felt nicely soft (bonus points to the shower gel). But it was the next product that really blew my mind – the Rhubarb Body Yoghurt. It is meant to be used as a lotion after showering. And my, oh my, did it take the softness of my skin to the next level. It had the consistency of a yoghurt (hence the name, I gathered) and smelled strongly of rhubarb, which happens to be one of my favourite plants. It felt like it was Summer again. I quickly discovered that you only need a little bit of product to cover a good amount of skin surface. Combined with the previous effects of the bath milk, my skin felt soft like a baby's. What else is there to ask for?
"They truly sounded more like a breakfast buffet than bath products. I just had to try them."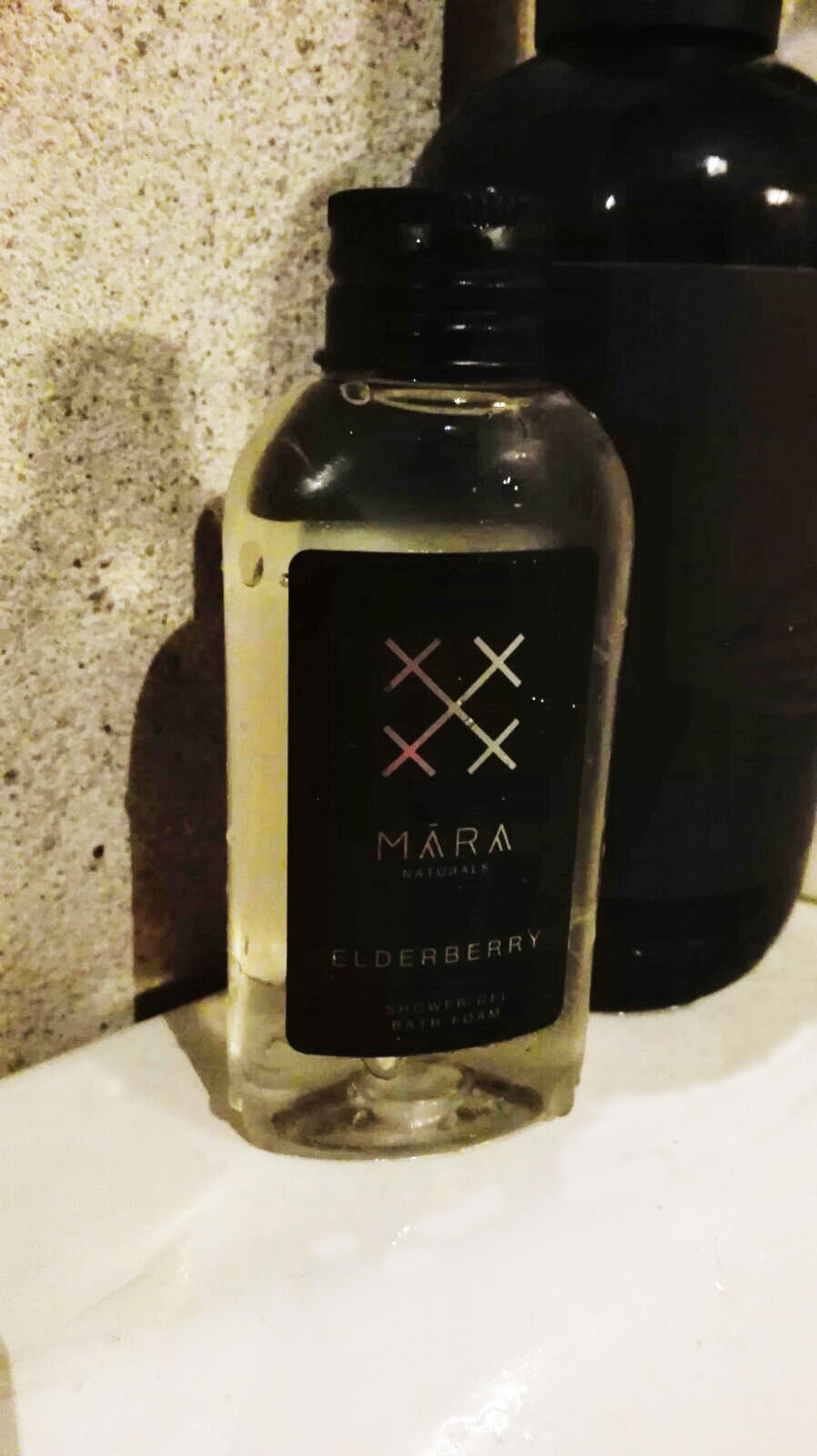 Elderberry Shower Gel+Bath Foam #Savant
All in all, Mara Naturals surprised me with pleasantly nourishing products, resulting in a soft skin with smooth texture. There is some power in nature, as I have discovered. Mara Naturals highlights that natural power and takes it to new heights. Their innovative products are definitely something to look out for. The product ranges include rhubarb, elderberry, blueberry and cranberry, as well as a few juniper scented items – something for every taste.
We want you to be able to experience natural skincare, too, so we are doing a giveaway on our social media accounts. Make sure to take part for your chance to win a Mara Naturals Rhubarb Sugar Scrub.