As a curvier girl, I know the struggle of finding good quality clothing that also fits just right too well. It's easy to find a frumpy moo-moo, but why should women who wear sizes 14+ have to hide their figure? At Savant, we believe that everyone should be able to purchase trendy sustainable alternatives to complement their wardrobe – no matter their shape or size. We put together a list of 5 unique brands focused on making curvy women look and feel good.
Words: Johanna Raudsepp
Origin: U.S.A.
Size range: 10-28
Aesthetic: Universal Standard carries a strong range of essentials that you can mix and match to create your perfect outfit. Their silhouettes are contemporary and easy to wear. Perfect for a busy, working woman in an urban environment. Universal Standard is also very customer-oriented, wanting their women to have the best experience when shopping.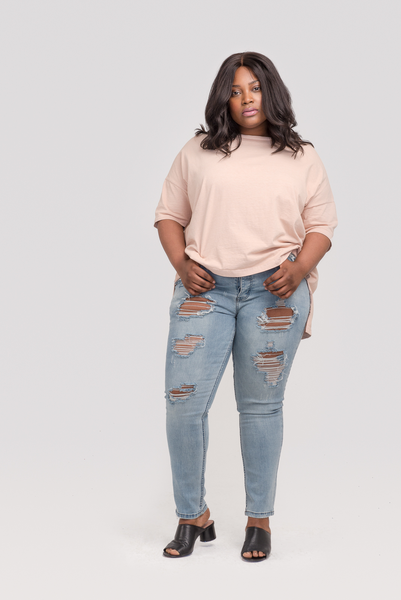 Origin: U.S.A.
Size range: 12+
Aesthetic: Mei Smith is a luxury retailer bringing together emerging womenswear brands dedicated to dressing a curvier woman. The products sold are staples that will last in your wardrobe for many seasons to come. Current looks are quite simple and casual, produced locally in the US. Perfect for everyday wear.
Origin: Australia
Size range: 12-26
Aesthetic: Harlow is for a woman who isn't afraid to stand out, describing their style as rock-chic. They have a signature monochrome palette, current collections feature pleather detailing and figure-flattering silhouettes. Harlow tackles fast fashion by producing high-quality, long-lasting clothing transcending seasonal style – and all in small quantities. No longer will you have to worry about having the same dress as 300 other women.
Origin: U.S.A.
Size range: 0-24
Aesthetic: Eileen Fisher has thought of women in different sizes. Her clothing line features a mainline, petite line, and a plus-size line. With a casual aesthetic, this brand is for a woman who loves comfort. The pieces are simple staples that you can wear in every season. Eileen fisher has a big mission – to have a transparent, eco-friendly, ethical, socially conscious business by 2020. They ship to 99+ countries in the world.
Origin: UK
Size range: 8-22
Aesthetic: Birdsong boasts a manifesto of "no sweatshops, no photoshop". It's a label with garments created by talented women. Their style is more casual, urban, and bohemian, with quirky patterns and cuts for a unique look that stands out. The only downfall is that they do have limited edition products, so if something is sold out in your size, it's done. However, many of the items carry sizes up to UK 22.